Use VIDELLO for your  eCommerce sites by creating review or demo videos. And take payment directly from your videos.
Inside the editor click on APP at the left panel and click ECOMMERCE to add it to your video
---
PRESET
After adding the ECOMMERCE app to your video you will be able to select a Preset. Simply click the preset you would like to use.
---
SETTINGS
Click on the Settings at the left panel to change the preset color, image. And add a link to the button URL  that will redirect viewers to your ecommerce site when clicked.
---
TIMING
Two of the  Preset will let you offer quick discount within your video.

Click the Timing option to change when the preset will exit by selecting After seconds 
you can also let the preset app appear until the end of the video by selecting Never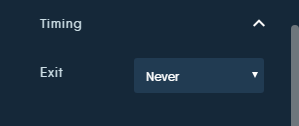 ---
FONTS
To change the font style on the preset click Fonts at the left panel. 
Depending on the preset you'll be able to change the Title,  Sub-title, Bullets, Button, Note, Product name and Descrpition, and Skip font types.